Call Us
61 3 9457 4755














Howard Instruments Collection
Proviu asl360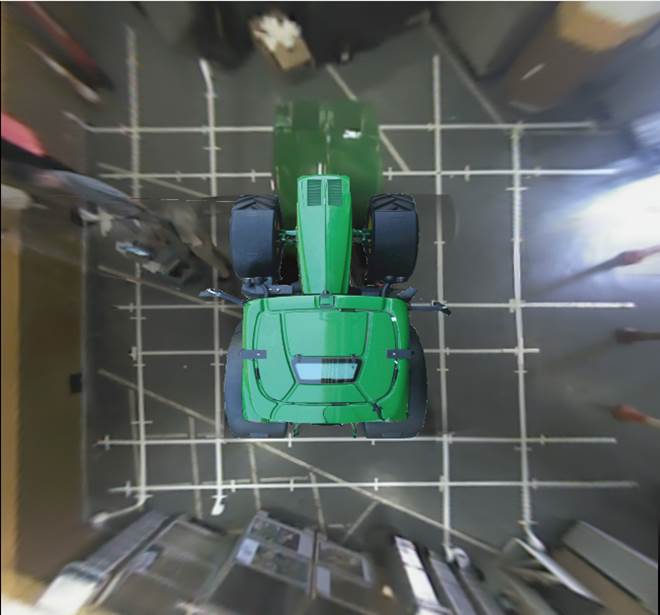 360 Degree 4 Camera System
Truck Gauges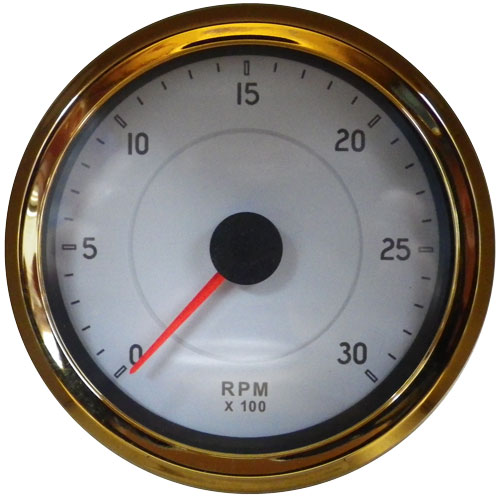 We now have a complete set of truck gauges available in Cobra and HIWHITE styling.
GPS Speed SENSORS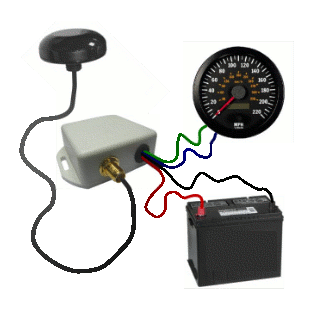 If you need an alternate speed input we have a GPS speed sensor available.
chronometric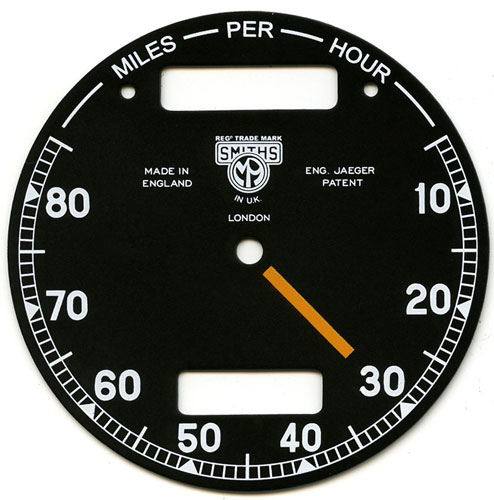 Chronometric Dials.
Porsche Metric Dial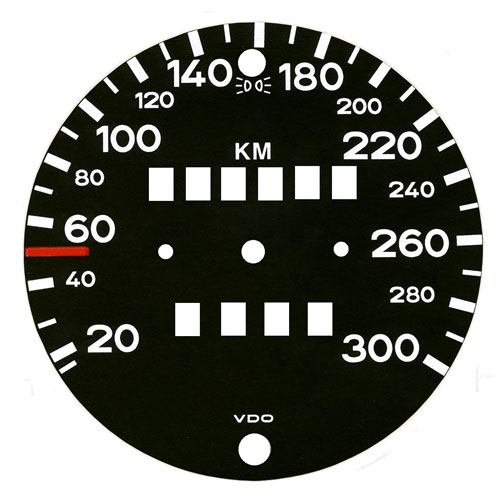 We now have metric dials and odometer gears for most Porsche Speedo's up to the late 1980's.
DIGITAL GAUGES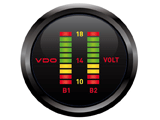 Newly released Dual Fuel and Dual Voltage Gauges.
Halda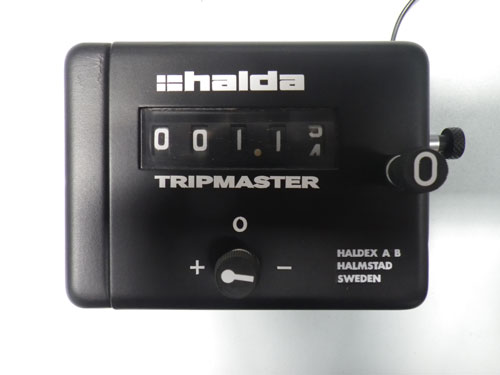 We can restore your Halda to as new condition.
Smiths Gauges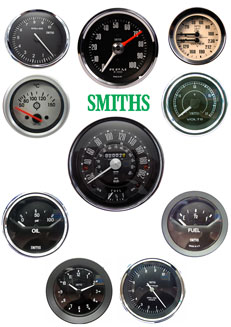 The best stock of Smiths gauges and accessories in Australia.
CapilLary Temp Gauge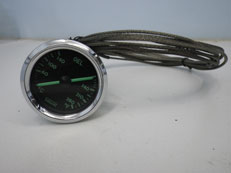 We fill Capillary Temperature gauges every friday.
Bezels

We have a wide range of bezels in stock to give your gauges a lift.
Tacho Upgrades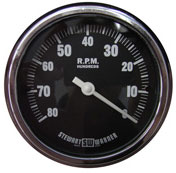 Changed your 60-70's car to electronic ignition?
We can help make your tacho work again.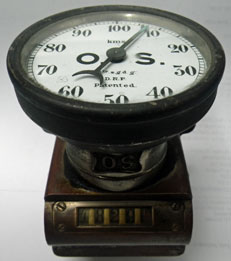 our collection
People seem to collect something whether they set out to do so or not.
From the point of view of instrument restoration we at Howard Instruments benefit from having original samples as we are generally not able to refer to factory specifications.
So given that there is over 100 years of instrument history where do we start.
With the First Eddy Current Speedometer made by Otto Schulze from 1908 pictured above.
From a personal perspective Rodger has an interest in BMC Mini's,racing car's and tuning houses of the 60's.His racing Mini Marcos will include a fair representation of the instruments available to the boy racer in the 1960's.
Ian purchased his D3 Stoewer in 2012 which ties in nicely with the History of VDO.
Otto Schulze the inventor of the Eddy Current Speedometer in 1902 had instruments produced under the brand OSA (Otto Schulze Autometer) from 1923 the year of Ian's D3 Stoewer. OSA was a company established by Adolf Schindling in 1921 and renamed OTA from OSA in 1925.The company then became VDO in 1928 as the amalgamation of Dueta and OTA.
smiths edwardian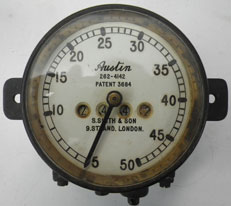 This speedometer is the earliest Smiths Speedometer we have badged for Austin, it also lists Smiths Instruments first home at 9 STRAND LONDON.
the watford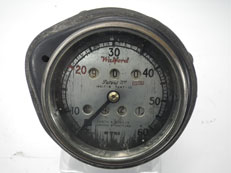 North and Sons were for a short time a local competitor to Smiths with their Watford Govenor Speedometer.
bull nose morris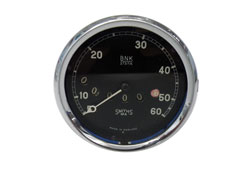 This speedometer has been in our collection since our time in Geelong and is new.
O.S France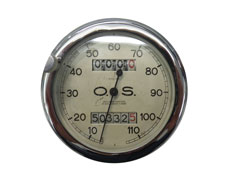 O.S Speedometer France.As far as I can ascertain the two O.S. companies were not connected other than by the fact that the French O.S used the eddy current principle for their speedometer's. The French O.S specialised in clocks.
A-T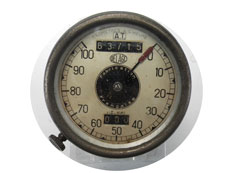 A T was a french company that applied a version of the eddy current principle to their speedometers. it was an extremely robust movement which was used by Smiths right up into the 1960's in their racing tachometers for bikes and car's.
deuta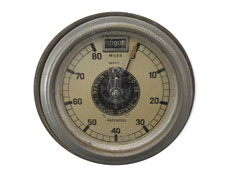 This Deuta speedometer is from the 1920's prior to the amalgamation of Deuta and OTA in 1928 to become VDO
The same speedometer was used in the D10 Stoewer except that it was silver with a 100 mile per hour dial.
corbin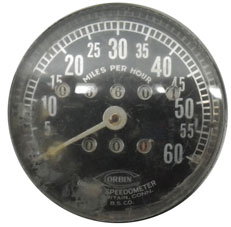 One of the most popular early Motorcycle Speedometers in the United States.
MORE
corbin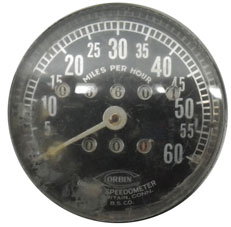 One of the most popular early Motorcycle Speedometers in the United States.
XJ13 CHRONOMETRIC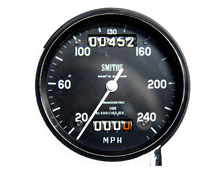 This chronometric speedometer remained unidentified for many years and through a sequence of events I bought it and later found out that it was made to use in the Jaguar XJ13 in 1966.It has only done 452 miles and if I can reach a little over half scale in my marcos with it I will be pleased.
MINI MARCOS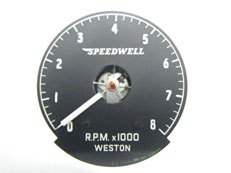 The Speedwell Weston Tachometer was one of the first Electronic Tachometers available to the aftermarket.
It will take a central place in the Marcos dashboard.
speedwell speedo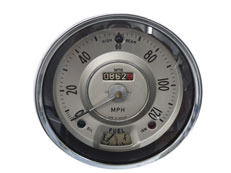 Very similar to a Morris Minor speedo, the range was extended to 120mph. It is said that these speedometers were in the first 1071 Cooper S's
speedwell gauges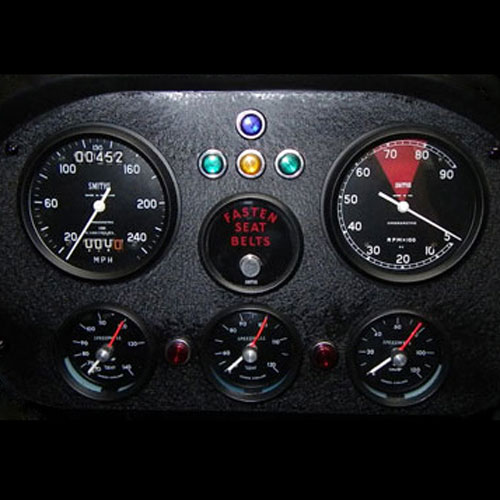 I like speedwell gauges and decided to use max hand versions with black bezels to minimize reflection.
heuer monte carlo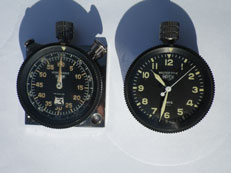 I have always wanted a pair of these and a friend of mine made it happen. They will be used in a number of cars.
More
halda tripmaster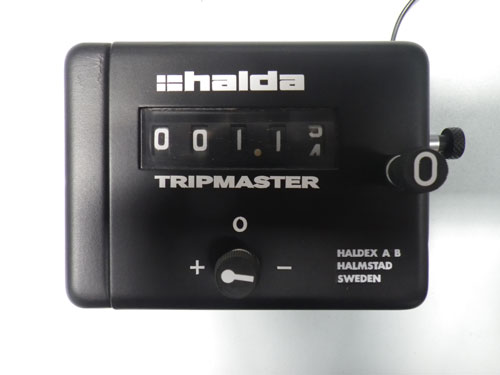 The Metal (Aluminium) Case Halda's came in two finishes flat black & crinkle black.
More
halda Tripmaster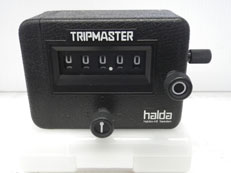 The Later Tripmaster's were made with a plastic case whilst the internals remained essentially the same.
More
halda tripmeter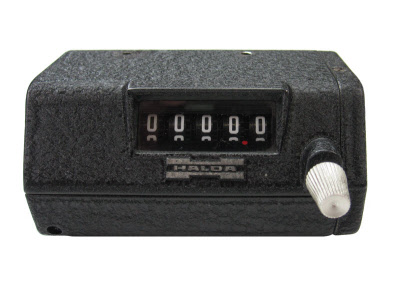 No its not a Tripmaster or Twinmaster but the earliest Halda Tripmeter most famously used in the early BMC Mini Works Cars behind a magniying glass.
More
speedpilot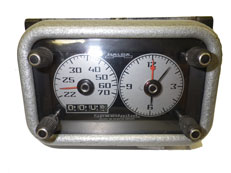 An early MK3 Speedpilot in MPH
More
smiths trip of time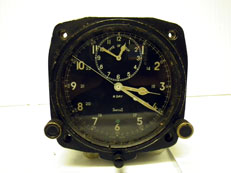 Smiths Trip of Time.
These clocks were used during the Second World War in Aircraft. After the War they were used in Rallying and sold by companies including Les Leston
More
SPEEDPILOTS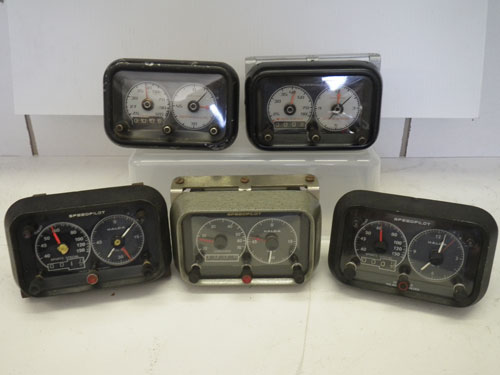 Mk 3 3.5 4 & 5 Speedpilots
MORE
tripmaster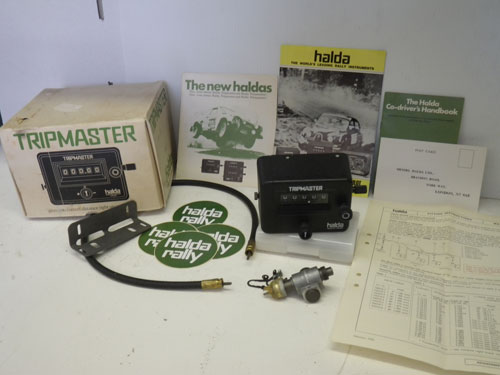 Tripmaster NOS. When you bought your Halda Trimaster this is what was included with it.
MORE